Holy Cow! This bucket list business is awesome and tiring at the same time. Since I am still in school, trying to find the time to complete the tasks has been challenging, but I am so excited about everything! I have gotten to do some awesome things with awesome people this week.
Go Tubing at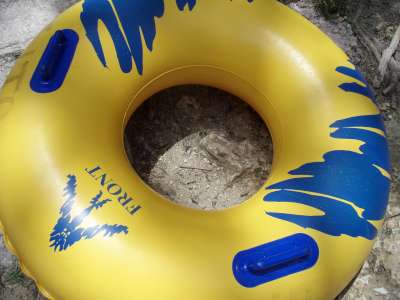 the Springs (5/28/11
) - Ok, so I cheated...I actually did this the day before I started the bucket list, but I am not sure that I will be going back, so I am going to count it! I had a great time tubing do
wn the river with Barbara, Jeb
, Sammy, and some random people I just met. Overall, we relaxed, got some sun, and relived m
any awesome tubing memories. I am going to miss having fun like this only 30 minutes away.

Dlites(6/1/11) - How do I explain the amazingness that is D'lites. It is soft serve, delicious icecream, that changes flavors eveyday. Did I mention is is low in calories...like really low in calories? When I say that fabulous icecream has never been so healthy, I do not lie. My favorite flavors are amaretto, carmel cashew, and vanilla with rainbow sprinkles :) I got to experience this joy for the last time with Sarah, a besty that will surely be missed, but also very close because she is moving to D.C. a few weeks after I move. No Picture :)

Go on a random road trip to Ocala for icecream (6/2/11)
- This is by
far the most random event on my bucket list and I love it. I once went to an away football game with Barbara and Jazz, it was cold, we decided to get icecream, we found Brusters..we fell in love. When we returned to Florida we craved this tasty treat so much that we googled where the nearest location was and found out is was about 40 minutes away. We went anyway. This icecream is amazing! The flavors are crazy and full of flavor, but this is full on fat baby. None of that healthy for you business like before. I had the dark chocolate and the carmel cashew. Tasty!
Eat a slice of spin/tom pizza at Leo's (6/3/11) - I can;t really explain to you how much this p
lace means to
me. It was the first re
staurant I ever ate at in Gainesville. I relived the memory with Steven, a friend for many years, who accompanied me 5 years ago on that first trip. The pizza was as good this week as it was then. Plus, their salad is to d
ie for...chickpeas, carrot shavings, and alphalfa sprouts...who doesn't love that?


Watch the bats at sundown at the Bat House (6/3/11)
- OK, I double dipped...two events...one day. But I missed a day or two and don't really have 30 days to complete this thing, so I am ok with it. This is actually something I have never done before and have always wanted to do. UF has two bat houses, they actually call one
the bat barn, but nonetheless it is the largest sanctuary for bats in the southern United States. It is a must do for all students and most students do this during there first weeks on campus when you have nowhere else to go because no one you know has a car. You wait and wait until just the right moment and 20,000 bats fly out of their house to go feasting for the night. It is quite the experience and I am glad to have done this activity with Steven, a true UF expert and alumni.
Hopefully next week I can check off many more exciting things from my bucket list! Stay tuned!
*Photos courtesy of me :)*